Combined OV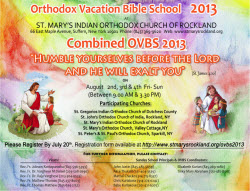 BS of St. Gregorious Church of Dutchess County, St. John's Church – Orangeburg, St. Mary's Church – Valley Cottage, St. Peter's and St. Paul Church – Sparkill and St. Mary's Church – Suffern will be held on the dates of Friday, Aug 2nd and Saturday, August 3rd. The OVBS rally and celebration will be held after the Holy Qurbana on Sunday, Aug. 4th.
The venue of the combined OVBS will be St. Mary's Indian Orthodox Church of Rockland, Suffern located at 66E. Maple Ave, Suffern, NY 10901. For further detail, see the program flyer.
>>Click here for the Program Flyer<<
>>Click here for the Registration Form<<
1. Please download the form using the above link.
2. Form can be filled on the computer itself before printing.
3. Please turn in the completed registration forms plus the required fee to any participating Sunday school Principal/OVBS Coordinators by July 20, 2013.
OVBS 2013 Theme "Cup Song" by St. Mary's Sunday School Kids